Snowflake Summit 2019 Welcome
Today I attended the opening keynotes of the 1st Snowflake Summit in San Francisco. Frank Slootman, Snowflake's Chairman & CEO opened the Summit. Christian Kleinerman, VP of Product discussed how Snowflake focuses on ensuring how you get value from your #Data; faster, simpler and more affordably. Relentless innovation, that's how they approach product development and innovation at Snowflake without planned downtime or interruptions. A few notes on the Snowflake Summit 2019 Welcome. This is what I heard this morning.
Frank Slootman, Snowflake's Chairman & CEO
Snowflake is; "Built for the Cloud". This means, Snowflake cannot run On-Premise. "Your data no limits".  Certainly, Snowflake's unique capabilities are based on a few characteristics: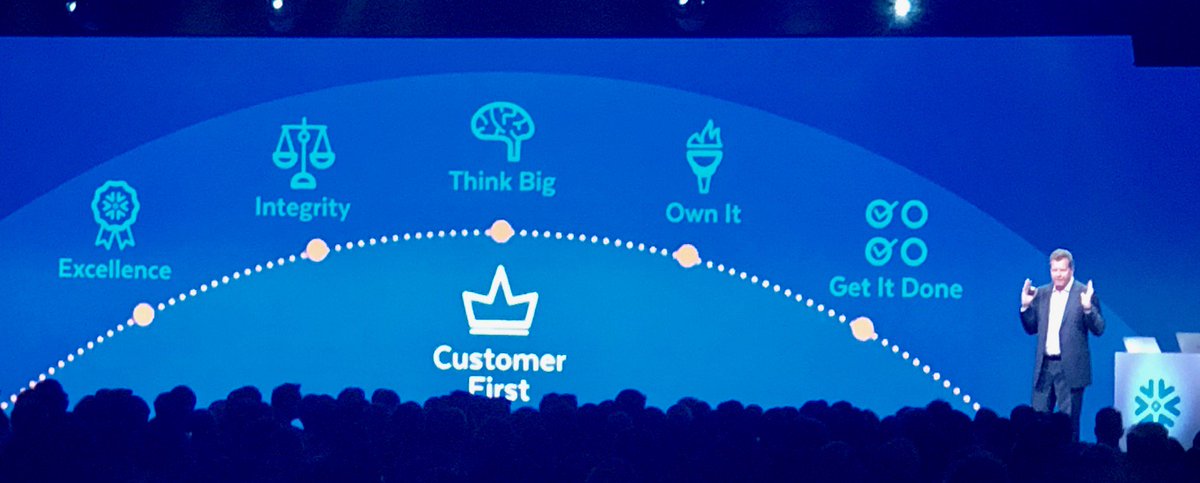 Scale (Separation of Storage & Compute)
Productivity
Performance
Snowflake values – Customer first versus Employee first. Being a partner instead of a vendor. That's the focus of Snowflake. "Customer First " is on top of the Snowflake's value hierarchy. This means Snowflake has to earn the customer's trust and make the customer successful. A customer's succes is Snowflake's succes.
Announcements
Frank Slootman also made a few announcements. Snowflake started on AWS. The second cloud platform, Snowflake came available on Azure because of Azure was the chosen cloud platform for several customers (Customer First). Being a  true multi cloud solution provider, Snowflake will be available on the Google Cloud. Check the announcement here.
Another announcement is the Data Exchange. The Snowflake Data Exchange is like an Appstore but then for data. It's software based on Snowflake's unique Secure Data Sharing architecture. This is a very interesting innovation, which allows customers to get; "Instant, Live and Secure" access to relevant external data, without the need to copy that data back and forth. "The world's Data & Yours".
Christian Kleinerman – Snowflake VP of Product
Looking back on the innovations being applied in the previous period is not easy. If you still want to see what happened, you should check out the all the features in the Snowflake Release Note. All new features are validated on value by the customer.
Partnerships are important to move forward and get the most out of Snowflake. 
Partner (Data) Connect

Integration,
Analytics
Security / Privacy

Solution Partners

Implementation
Guidelines (Quick Start Tableau and Snowflake on AWS)
Best Practices
What's next?
The (near) future of Snowflake is based on 4 pillars. Find the list below with the highlighted elements which are to be expected in the following releases.
Core DWH – The basis of Snowflake
Query Performance

compilation
execution
return to client

Security – System and capabilities
Identity relay – management between the various systems to operate Snowflake
Security Integrations
Richer Experiences

new SQL features
Extensibility

Javascript functions
Javascript Stored Procedures.

Geo Spatial capabilities

Worksheet 3.0 (User Experience)
Numeracy Acquisition –

Snowflake's DWH User Interface
Visualise
Sharing
The best of Numeracy with the best of Worksheets

Cloud Data Centers and the region of Choice
Data Pipelines
Snowflake Ingestion with SnowPipe or Copy – (including unloading)
Credential-less stages

Storage Integration
More control on the touchpoints
External Stage (AWS S3, Azure Blobs, GCS)

Snowpipe Auto Ingest
Kafka Connector – direct integration into a Snowflake table
Table Streams (incremental processing of data) & Tasks (SQL statements / Business Logic on a schedule)

Transformations and dependencies between the two

Snowflake as a Data Lake – Managed Service with Performance

Snowflake augment the existing Data Lake

External Table (Definition in Snowflake, Data in Data Lake)
Hive Metastore integration
Materialized Views on top of External Tables
"Available Today in Public Preview"
Global Snowflake
Multi Cloud Simplified
Snowflake Organization (policies) – Separation between Account and organisation
Database Replication (public Preview in Q3) between accounts (cross region and cross cloud)

Including Table Streams and Tasks

Failover primary and secondary including client re-direct
Secure Data Sharing
Standard Share  (Demographic, Weather, Industry Benchmark)
Personalised Share (as Customer get your own Data)

Secure Views to get your slice of the data
Thanks for reading.
Cheers,