The last 4 days I looked back at the Snowflake Summit 2023 in Las Vegas. This last post in the series of 5 is a short wrap up of all things I have covered these days.
Hello Data Nation
As always, Snowflake Summit is the place where enhancements to the Snowflake platform are announced. The announcements can be divided in more or less three different categories:
Snowflake as a Single Data Platform
Deploy, distribute and monetize applications
Programmability
It's hard to say which announcement is the most important. Of course an important theme was Machine Learning, LLM, and Generative AI. Think about the various partnerships and acquisitions Snowflake has done in the past year.
Another enhancements related to programmability on the Snowflake Platform is a major step forward. The Snowpark Container Services is the enhancement that catch the eye.
Developing and selling native apps on Snowflake with the Native Application Framework (Public Preview on AWS) is another important improvement in the Snowflake Data Cloud
All enhancements are made with the idea of centralized storage of data and bringing divers workloads to that data.
Generative AI
At Snowflake Summit 2023, Generative AI was discussed as a transformative technology with the potential to unlock new insights from data. The summit announced several capabilities that come together to help customers bring Generative AI and Large Language Models (LLMs) directly to their proprietary data, all delivered through a single, secure platform. Snowflake is building LLMs directly into the platform to help customers boost productivity and unlock new insights from their data.
One area that's been especially challenging for customers is understanding and extracting value from unstructured data, such as documents. With Document AI, Snowflake is providing a leading LLM to help customers quickly and easily extract information from documents.
During the various keynotes and sessions speakers discussed the importance of having a data strategy to support an AI strategy
Overall, Snowflake Summit 2023 showcased the potential of generative AI to help enterprises create new value from data.
Data Superheroes
I am privileged to be part of the Snowflake Data Superheroes (DSH) class of 2023. At Snowflake Summit 2023 we had some extra privileges which makes being a Data Superhero extra worthwhile.
Reserved (from row) seats
In-person events with Product Management
Data Superhero Summit Reception
On top of that was meeting with the DSH's in person extra nice and fun.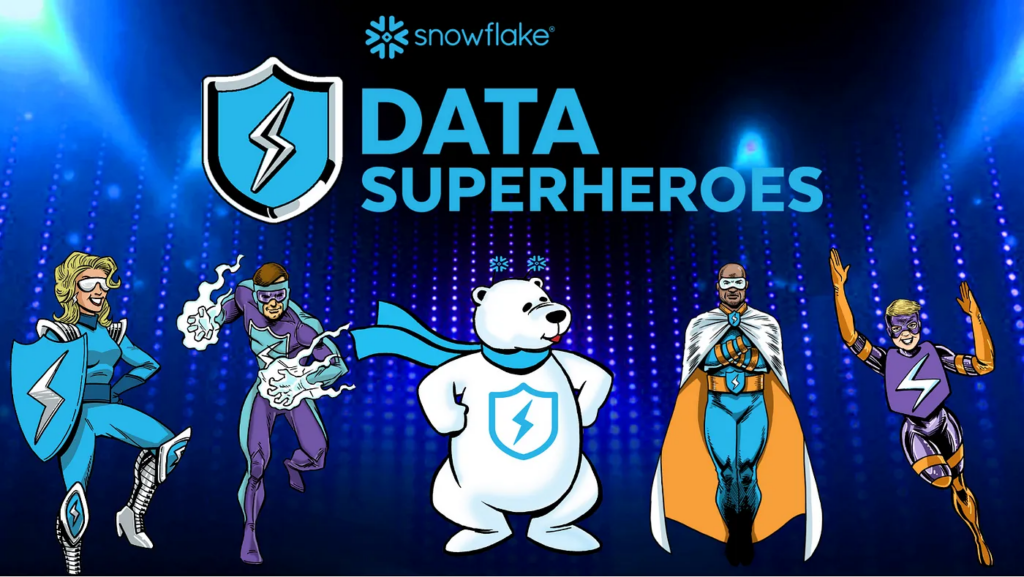 Special thanks to Howard, Elsa, Leith and Waqas for building and supporting the community.
Data Governance & Privacy
I believe building data products with e.g. Snowflake, can only succeed when the fundament is in place. At Snowflake Summit 2023 a lot of enhancements to the Snowflake platform were presented:
Data Quality Monitoring (in Private Preview soon)
Data Governance UI (in GA soon)
Classification UI (in Private Preview)
UK, Australia, Canada-based PII Classification (in Private Preview)
Tags & Policies History (in Public Preview)
Table Schema Change History (in Public Preview)
Schema-wide Tag-based Masking (in Public Preview)
Query Constraints (in Private Preview)
Data Access Policies
Policies on Shared Objects (in Private Preview)
All these innovations are focussed on improving the ability to know, protect and share your data from within the Snowflake Data Platform.
Alation Data Governance Partner of the Year
Special congratulations to Alation for being Data Governance Partner of the Year 2023 for the third time in a row. Alation also announced new innovations.
Alation Connected Sheets
Alation Open Data Quality Framework
Mark your calendars for June 3–6, 2024
Snowflake Summit 2023 wrapped up with an exciting announcement: the upcoming Snowflake Summit 2024 will return to its founding roots in San Francisco, California.
Mark your calendars for June 3–6, 2024, and save the date for Snowflake Summit 2024, here.
See you next year in San Francisco.
Director Data & AI at Pong and Snowflake Data Superhero. Online better known as; DaAnalytics.