Last June I was in Las Vegas for the annual Snowflake Summit. I had the privilege to receive a signed copy of fellow Snowflake Data Superhero; Serge Gershkovich's book, "Data Modeling with Snowflake", which is published by Packt.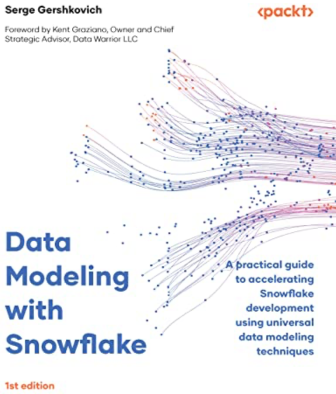 In the era of managed cloud Datawarehouse platforms such as Snowflake, it may appear tempting to load data into Snowflake and query it without proper data modeling. However, this approach can result in inefficient data storage and retrieval, heightened expenses, subpar performance, and security vulnerabilities. Hence, data modeling plays a pivotal role in guaranteeing efficient and effective data management within Snowflake, safeguarding against these pitfalls.
Serge Gershkovich is a well-known expert in data modeling and has extensive experience in the field. He is currently the Product Success Lead at SqlDBM, a popular data modeling tool that requires no coding. Gershkovich has a strong background in software engineering and has worked with several companies in the field. He has expertise in data modeling, database design, and software development. Gershkovich is a frequent speaker at industry events and has shared his insights on data modeling and Snowflake at several conferences. Serge emphasizes practicality in his approach to data modeling, providing real-world examples and SQL templates that demonstrate how to leverage universal modeling techniques in Snowflake and SqlDBM.
Serge Gershkovich's extensive background and expertise in data modeling establish him as an invaluable asset for individuals seeking to elevate their data modeling skills in Snowflake and SqlDBM. His book serves as a practical guide, immersing readers in the implementation of adaptable data modeling techniques to maximize Snowflake development. This comprehensive manual provides invaluable insights into data modeling as a whole, with a specific focus on leveraging Snowflake's unique attributes and functionalities to cultivate efficient and cost-effective solutions. By delving into this resource, readers gain valuable perspectives and strategies to enhance their data modeling endeavors within the Snowflake ecosystem.
Serge Gershkovich excels in guiding readers on an insightful exploration of the historical evolution of data modeling, encompassing its diverse forms and notations. With remarkable expertise, he proceeds to delve into the essential elements of the Snowflake architecture, enabling a comprehensive grasp of constructing high-performing and economically efficient solutions. This book is an indispensable read for individuals engaged in the database design realm within The Data Cloud, as it equips them with invaluable knowledge and insights.
This book stands out for its strong focus on practicality, which greatly benefits readers. Gershkovich goes beyond theory by offering real-world examples and SQL templates that showcase the effective utilization of universal modeling techniques in Snowflake. This hands-on approach empowers readers to directly apply these concepts to their own projects, resulting in a more engaging and applicable learning experience. Furthermore, Serge has made the examples he uses in the book available on GitHub, providing readers with convenient access to further enhance their understanding and practical implementation.
Additionally, the book shines a spotlight on the distinctive objects and features within Snowflake, illustrating their seamless integration with universal modeling techniques. This harmonious blend presents users with a potent toolkit for data modeling in Snowflake, empowering them to fine-tune their data structures and workflows for optimal outcomes. By leveraging these synergistic elements, users can unlock the full potential of Snowflake and achieve heightened efficiency in their data modeling endeavors.

Furthermore, the book explores the seamless integration of Snowflake SqlDBM, a popular data modeling tool. The collaboration between Gershkovich and Kent "Data Warrior" Graziano (a distinguished authority in data modeling) offers invaluable insights into harnessing SqlDBM for data modeling within the Snowflake environment. This integration adds an additional dimension of practicality to the book, catering to readers who prefer utilizing SqlDBM for their data modeling requirements. By incorporating SqlDBM into the mix, readers can expand their options and leverage the tool's capabilities to enhance their data modeling endeavors in conjunction with Snowflake.
In summary, "Data Modeling with Snowflake" is a pragmatic guide that proves essential for individuals aiming to elevate their data modeling proficiency in Snowflake. The book's mixture of universal modeling techniques, real-world illustrations, and integration with SqlDBM establishes it as an invaluable resource suitable for both novices and seasoned experts in the field. Whether starting from scratch or seeking to refine existing skills, readers of all levels can benefit from the comprehensive insights and practical knowledge presented within these pages.
Till next time.
Director Data & AI at Pong and Snowflake Data Superhero. Online better known as; DaAnalytics.