Finding the right dataset for a demo can be a challenge. There are several locations where you can find datasets. Recently I found out about Knoema. On Knoema there is a wealth of datasets either to achieve for free or via a subscription. Snowflake offers an easy alternative for you with Knoema datasets on the Snowflake Marketplace.
Secure Data Sharing
One of my most favourite features of the Snowflake platform is Secure Data Sharing. Snowflake's architecture supports Data sharing while keeping only one live copy of the data; no copying, no moving, no delays.
Direct Share –> one on one data sharing between organisations
Data Exchange –> data sharing from your own Snowflake account; multiple organisations, multiple data sets
Data Marketplace –> Snowflake 'App-store' for data
More on Snowflake Secure Data Sharing on the Snowflake website.
Snowflake Marketplace
Knoema offers it's datasets on the Snowflake Marketplace. It's relatively easy to get data form the Data Marketplace. In a few steps you can add a dataset from the Data Marketplace into a Snowflake account.
First select the Data Marketplace button from the Snowflake Menubar.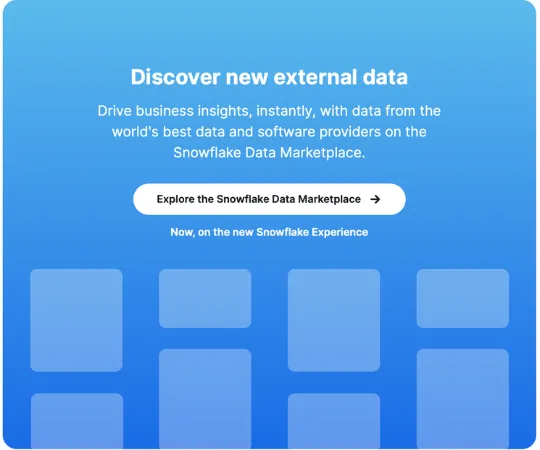 This allows you to explore the Snowflake Data Marketplace. When you sign into the Data Marketplace for the first time in your session, you might have to login another time.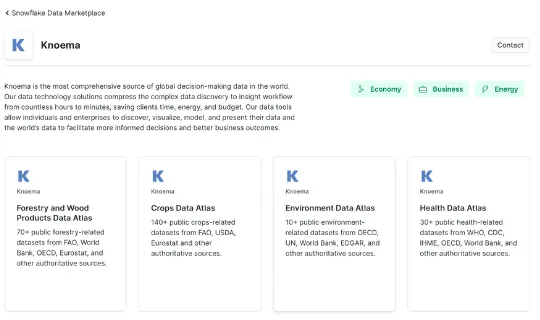 From the homepage of the Snowflake Data Marketplace you can search and select various different data providers. You can search on the name of the provider or the category of the dataset, like e.g.; Economy, Weather or Sports. Knoema is one of the many data providers. They offer various data sets in various categories.
> Sports and Recreation Data Atlas"

To be able to select a dataset from the Snowflake Marketplace you need the ACCOUNTADMIN-role. For this example I will select the; 'Sports and Recreation Data Atlas'-dataset. From the landing page of this dataset you see the contents and a description of this dataset. This dataset consists of 10 different datasets in total. Additional information on this page are possible query's you can execute on this dataset.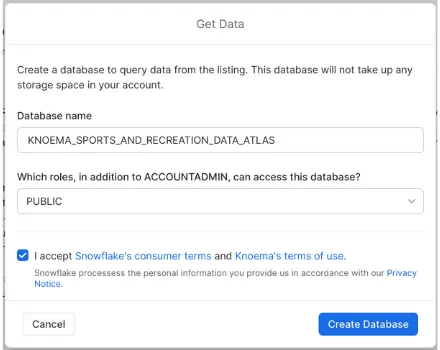 Via a Data Share you create a database ion your account. You can name the database and assign roles you want to be able to select from this database. In this example the name remains the default and read privileges are assigned to PUBLIC. You will have two accept both Snowflake's as well as Knoema's terms of use.
That's it. Now you have a dataset from Knoema available form within your Snowflake account. No need data pipeline necessary. No additional storage cost either. Only compute when you query the data.
When finishing up this blogpost I saw I missed the following post by Snowflake's Felipe Hoffa
Thanks for reading.
Cheers,